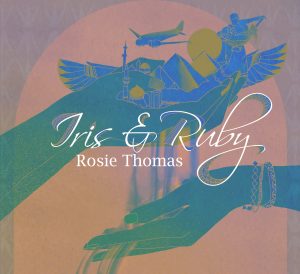 An exotic historical novel based in Cairo.
I started reading Iris & Ruby when I was commissioned to design a book cover for it. Little did I know how much I would relate to each of the main characters.
The story bridges generations of women in a story within a story bundle that's gloriously inception-like but manages to stay effortless. Iris enters the story in old age, but through re-living the days she holds near and dear, we see her as she was. The real beauty of the character of Iris is that she is so perfectly normal, while having extraordinary moments. She is not superhuman and she has mostly kept to herself and found strength in her own independence. She is perfectly human and truthful in her old age.
I have not read much historical fiction (or non-fiction) and I can't say I know much about wars. Through this book I not only learned about what it would have been like to live as a young woman during a time of war, I learned it in a memorable way. In an eye-opening way that linked the things that happened with how they felt.
Contrast this with the attitude and recklessness of youth of Ruby and you see how she is matured and tempered by her closeness with Iris. Even though she never loses her edge, she gains some knowledge of what lies beneath the surface of the Cairo she grows to know and the grandma she loves. She comes to terms with her own experiences and reconciles the differences she sees between her mother and grandmother.
The story of Iris and Ruby is a touching and powerful in the subtle way it draws you in. It will give you a new perspective on family, matriarchy and expectations you place on yourself and others. It will also remind you how capable you are on your own.