Sweet potato choc chip snack bars… it's a mouthful.
Dairy free, gluten free, high protein snack bars that you can make for your weekly meal prep? Yes it's true, life can be good sometimes.
This meal prep stuff can get tedious if you're forever needing to spend oodles of cash on protein bars because you don't want to eat carrot sticks and fruit as your only snacks forever. Here is your saving grace.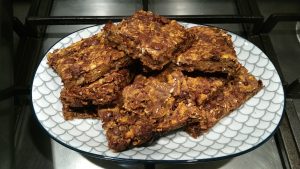 Ingredients:
475g Sweet potato
135g Sweet Williams dairy free choc chips for cooking
2 eggs
60g rolled oats
60g vanilla protein powder (I used Bulk Nutrients Earth plant protein)
2 tbspns almond meal
15g Golden flax meal
1 tspn Xantham gun
1 tbspn raw carob powder (can add extra cacao if you don't like carob)
1 tbspn raw cacao powder
2 tbspns fine dessicated coconut
20g CoCo2 hazelnut spread (or rice malt syrup)
5g vanilla bean
Method:
Grate sweet potato on a regular cheese grater. No need to peel if you're using good quality organic.
Combine all dry ingredients in a mixing bowl with the sweet potato.
Add remaining ingredients including CoCo2 hazelnut spread and eggs. Stir until completely combined.
Prepare a baking tray approx 5-10cm deep and line with baking paper.
Preheat oven to a medium heat – my standard is usually about 160-180 degrees celcius. I'm not very precise with my cooking temperatures.
Transfer mix to the tin and press the mix gently to the edges.
Place tray in oven on the top shelf for approx 20 mins.
Check to see if it is cooked through by poking a clean skewer into it. If it's looking gold brown on the top and the skewer gives some resistance, but comes out clean, your sweet potato choc chip snack bars are ready!
Here are the values according to MyFitnessPal:
Makes 16
(I normally ate 2 bars in one sitting because they were so good!)
124 calories
4.6g fat
13.9g carbs
6.4g protein
Have fun with this one 🙂